Last weekend my family and I went to
Alai 'Ikan Bakar'
for dinner. For those who don't know what is 'Ikan Bakar', well it is a Malay word and it literaly translated as
'burned fish'
. Just kidding, a better translation would be
charcoal grilled fish
. Sounds yummy rite.
Alai
is our favourite place to eat
'Ikan Bakar'
. It has a
lot of choices
of seafood and the
price is resonable
here. On weekends Alai 'Ikan Bakar' never fail to be packed with customers, both local and outstation. But that particular Saturday, the place strangely does not have so much customer as I expected. Anyways, lucky for us as less people means faster service:D Location wise, in fact Alai is not quite strategic as it is not in the center of town or even visible easily along the road. In fact is located quite deep inside and is situated just beside a river. Most customers know this place though the word of mouth. This just show how delicious the food there can be:P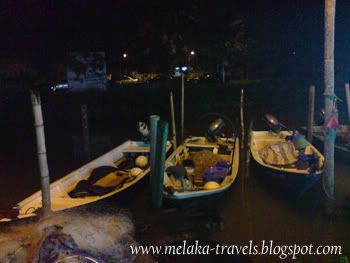 Alai Ikan Bakar river view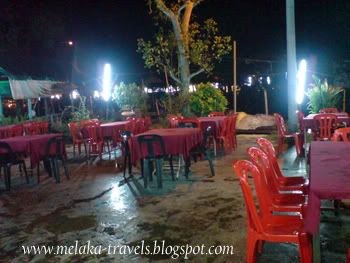 Tables and chairs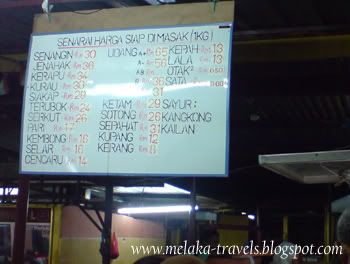 Price on that day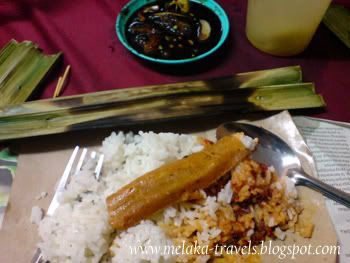 The first thing that came was nasi lemak and otak-otak. I can't wait for all the food to arrive... so I ate first:P
There a
various seafood
that you can choose from:
-Fish (Jenak, Siakap, Pari, Kembung, Selar Kuning, Merah, etc)
-Clam (Lala, Scallop, Kerang, etc)
-Squid
-Crab
-Prawn
-etc.
Cooking method:
Bakar(Charcoal grilled)You should at least have one dish cooked this method. If not, wouldn't it defeat the purpose of going to Alai 'Ikan Bakar' and not eating 'Ikan Bakar', rite? (Note: If you saw the 'ikan bakar' picture below, please excuse it... i forgot to take the picture BEFORE we ate it.. i guess it was too tempting :D). Anyways, my recommandation, choose 'Ikan Jenak' a medium sized fish and ask the to 'bakar'(grill) it. Jenak is suitable as its flesh it thicker and juicer if compared to smaller fish. It is also a saltwater fish, so cooking this method is better compared to fresh water fish that might have a bit of the fishy smell. The best part of grilled fish is that you get the taste the original fresh flavour of the fish and able to dip it with their 'special' soy sauce. Definately a must try:)


Goreng Berlada (Deep fried with Chili paste on top)This is one of my favourite cooking method here. I love spicy food, and if you are the same then you definately try Deep fried with Chili paste on top menu.



Goreng tepung (Deep fried with flour)If you thinking of cooking method for squid, you should definately try deep fried with flour. It's absolutely tasty.


Asam pedas (hot and sour soup) Quite tasty actually. Should try:)

Sweet and sour (Tomato paste)


Other food:

Otak-otak RM0.50 each

Nasi lemak bungkus RM0.70 each

Vegetables (not many choices)
Beverages:
Hot drinks,Cold drinks,Fruit juice,Coconut drink

Finally, here's the receipt. The owner was quite nice and gave us some discounts. Total paid, RM95:)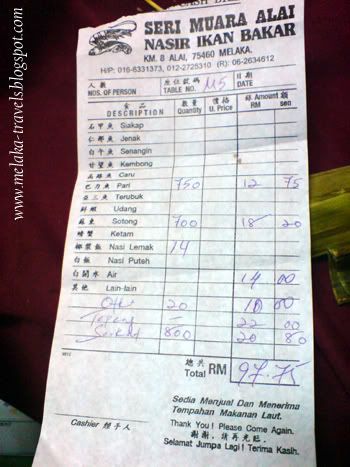 Seri Muara Alai Nasir Ikan Bakar
Contact Number:016-6331373 / 012-2725310 /06-2634612
Address: Km 8, Alai, 75460 Melaka
Opening time: Dinner time
GPS Location: Coming soon ...