If you come to Melaka through the Alor Gajah Toll, you'll definitely pass by "Restoran Yee Wat" on your way to Melaka Town. I highly recommend this shop as it serve delicious home made fish balls or 'Yong Tau Fu'. "Restoran Yee Wat" can literally translated as "Fish Paste Restaurant". Also, if you see on the left of the shop signboard, there is a logo, stating "Ivan's Ikan Parang". Ivan should be the shop owner name (correct me if i'm wrong) and 'ikan parang' is best type of fish to make fish paste due to it smooth texture and taste.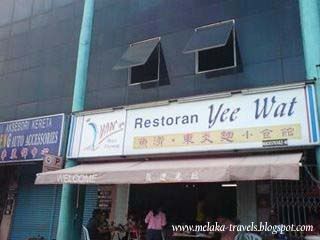 Yong Tau Fu shop in Krubung, Melaka


This shops is quite unique compared to other Yong Tau Fu shops found in Melaka. One of the reason is that you can order it with various types of flavours. Usually, most shops only serve 2 types, soup or dry. But here, you can also order tom yam and mee rebus flavour. Secondly, and the most important reason is that they make their own fish paste (using "ikan parang" I believe) and the taste is just superb. Yummy! Besides, there are also a lot of certificates and awards proudly hanged on the wall of the shop. This shows how good and experience the chef's culinary skill.
In Melaka, Yong Tau Fu is served with noodles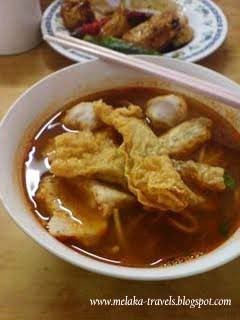 Tom Yam flavour Yong Tau Fu

Mee rebus flavour Yong Tau Fu
For those who doesn't know what is
'Yong Tau Fu'
, you can read the
origin and description of it in Wikipedia here
. 'Yong Tau Fu' (釀豆腐) literary translated as
stuffed bean curd
. Basically, it is a Chinese soup dish containing food item such as tofu (bean curd), 'tau ki' (soya sheets), 'tau pok (fried bean curd) and vegetables that are stuffed with
fish paste or meat paste
. Look at the pictures below and you'll know what I'm talking about.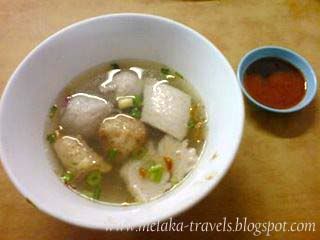 Yong Tau Fu in soup
Mix Fried Yong Tau Fu with special sauce
Price : Reasonable and can be consider CHEAP if you're from KL or Singapore. Only RM3.20 per bowl and RM0.60 for each piece of Yong Tau Fu. So, what are you waiting? It's the best Yong tau fu in town.