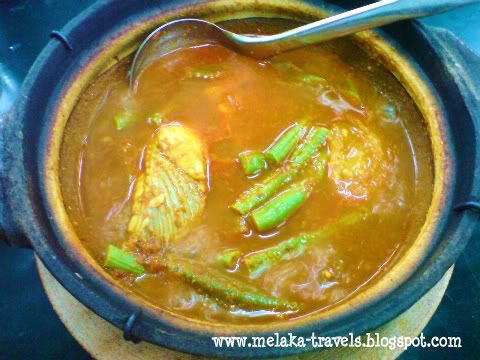 Ah.. asam pedas.. The word itself can make my saliva dripping. One of the best asam pedas you can find in Melaka actually is just beside 'Pasar Borong' in Batu Berendam. Pasar Borong means market in english. It's quite peculiar and downright weird to have such delicious food serve right beside the wet market (yes, the market is a wet market which sells fish, meat and vegetables). If you can ignore the fact of eating beside a wet market, the asam pedas serve there is just mouth watering and should not be miss.

In case you are not familiar with what is 'Asam Pedas', it is a hot and sour dish cooked with fish. It is normally served with white rice and salted egg. Look at the picture below:)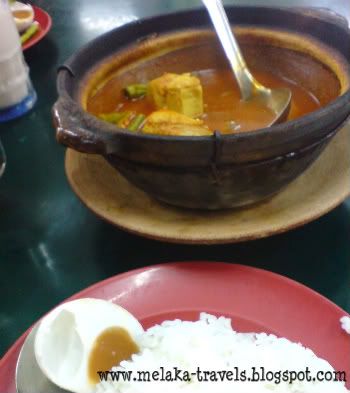 The place opens from night (dinner time) till morning I guess and the my favourite asam pedas stall is located somewhere in the middle (lot no. 12). The owner is a chinese lady and the asam pedas is served in a claypot. This place is actually in a food court where there are many stalls selling various types of food. Also, there are quite a number of stalls selling asam pedas and also other foods such as fishball noodle, curry rice, bak kut teh and fried oysters.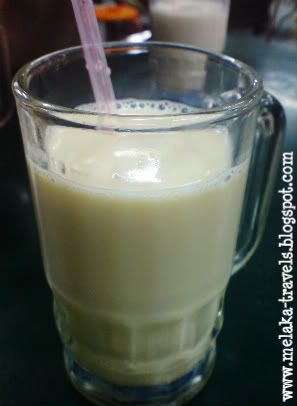 Asam pedas can be very spicy. Usually I'll order the fresh soya bean from the next stall to neutralize the burning sensation in my mouth

Price:
Asam pedas: RM5.00 (per person)
Rice and salted egg: RM1.30
Soya bean drink: RM1.30

Opening time:
Dinner - supper time


More information on the location coming soon....