Nyonya kuih
is famous in Melaka and Singapore. They might be fattening like any other cakes or cookies but they sure are tasty:P So, just close one eye and sink your teeth into it.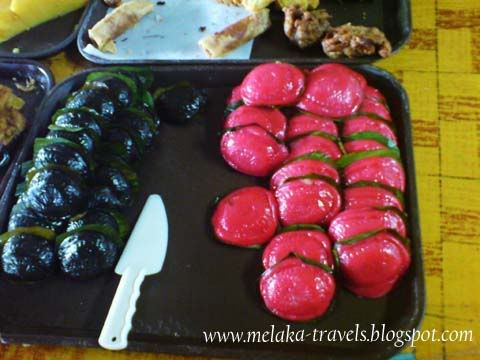 The common black and red Kuih 'Ku'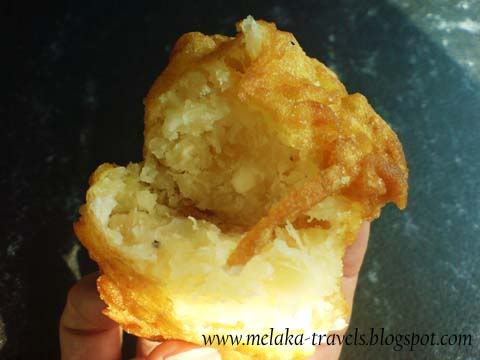 Kuih closeup
One of the few places where you can
order Nyonya kuih in bulk
for events such as open house or any kind of festivals, is located in
Batu Berendam.
Another location is in
Tengkera
. There are also many customers who buy just a few pieces of the Nyonya kuih for breakfast or tea time. Most of them buy here because of the large selection of kueh and the taste.
When i came to this shop in Batu Berendam, the nyonya kuih is almost finish. Sorry can't take a good picture showing more kuih selection. Maybe i'll visit the shop again next time earlier,haha. This shop is located at
Jalan Dato Seri Mohd Zin
or better known as
Jalan Pasar Borong Batu Berendam
. If you are heading to the Pasar Borong the shop or rather the house is on your left hand side. The shop is actually a house but there are table and other cooking equipments on the outside (see the picture below). Also, is just beside a kopitiam name "Cafe" (used to be Nyonya Cafe" but now the "Nyonya" word is erase with a white paint leaving just "Cafe" on the signboard.

The nyonya kuih shop in Batu Berendam, Melaka
There is another shop in Tengkera which also selling nyonya kuih. Below is the address:
72, Lorong Pantai Tengkera 2C,
Tengkera, Melaka,
Malaysia

GPS Coordinate:
N2.20325 E102.23149