Fishball noodles is chinese dish that very common in Malaysia. Usually, fishball noodle consist of noodle of your selection (mee, bee hoon, kuey tiao, etc) and fish balls. Sound a bit boring rite. Well, here's the twist. In Jalan Tengkera, Melaka there is a shop selling fishball noodles with prawn crackers. I'm not sure whether there is such dish in other parts of Malaysia, or unique to Melaka. But if you do visit Melaka, do give it a try.
Prawn crackers in the noodle soup is crunchy on the outside and savoury in the inside. Overall, it is tasty and blends well with the fishball noodle. Yummy! The only complain I have is that the noodle does not have any vege in it. Not even 'tau geh' or bean sprout. Ok, i know some people (vege non eaters) will say 'what are you complaining about??', but some vege is good rite??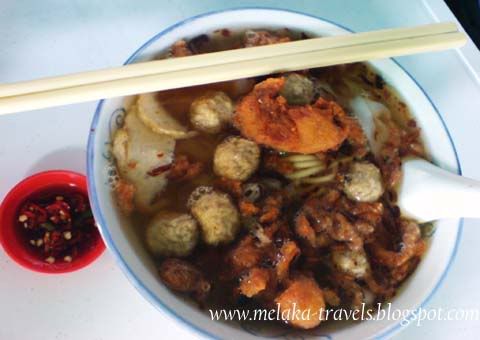 Big bowl has more prawn crackers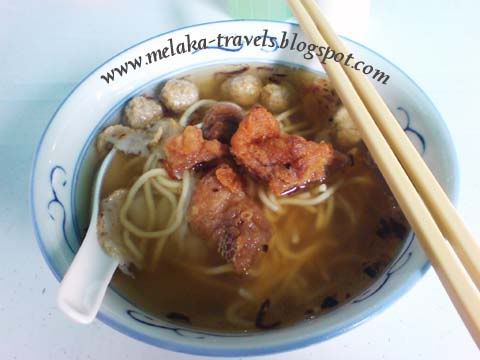 This is what I ate, a medium bowl

It looks so yummy...

This shops located at the same road as 'Mee Hassan' mentioned in my other post here. Opposite this shop you can find Wesley Methodist Church. There are 3 sizes you can choose, big, medium and small (RM3.50, Rm3.00 and RM2.50 respectively). If you are a big eater, order the big size as it is more fulfiling. As you can see from the picture above, it has more noodles and prawn crackers in it.
This shop has been in business for a long time. Also, there used to be an aunty selling the freshly squeezed sugar cane water using the sugar cane machine just outside the stall but now there isn't. I do miss eating this noodle while slurping my ice cold sugar cane water. Recently also, there seems to be less customers compare to their previous years. I'm not sure whether the customer had changed their taste buds or whether there is no sugar cane water selling there anymore.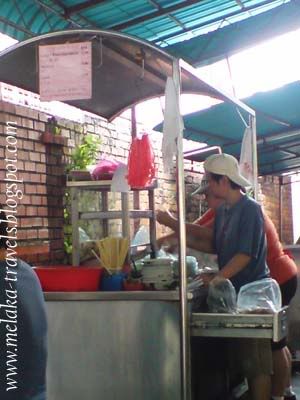 Tengkera fishball noodle stall
More information, such as map coming soon....