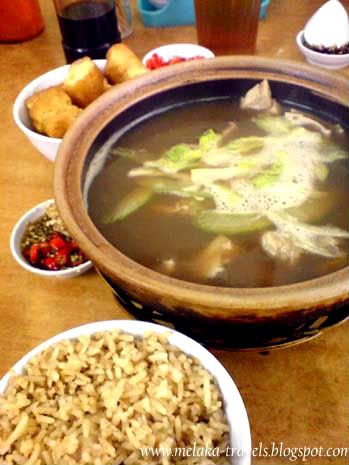 Bak Kut Teh with yam rice and 'yau chai kwai'
Bak Kut Teh
is probably my dad's favourite food. Although I do think that PORK cooked with ANYTHING can my dad's favourite food, haha. Bak Kut Teh is basically a pork dish cooked in herbal soup. This dish make a hearty breakfast or dinner for many pork lovers especially in the Chinese community. Although the
best Bak Kut Teh
in Malaysia is probably located in
Klang
but, here in Melaka, you can't deny that there are still some selling reasonable good and tasty bak kut teh. If you're still wondering what is bak kut teh, check out more about it in
Wikipedia here
.
In Malaysia and Singapore, you can find about
3 variants
of bak kut teh. These 3 variants are Teochew style which have clear and peppery tasting soup, Hokkien style which have darker and saltier tasting soup as they usually add soy sauce and Cantonese style which has more stronger medicinal herbal flavoured soup. Meanwhile, there are also some shops or their cook decided to they own variant and created dry bak kut teh. I've yet to taste it but from words of mouth, it is quite good. You can read it about it
here
.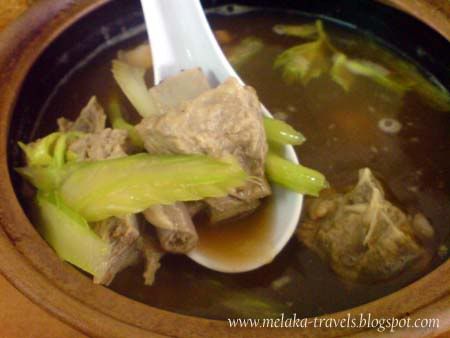 Glorious pork and soup
Now, you might wonder where's the shop is the photos from rite, no? haha. Anyways, this bak kut teh shop is located in Taman Melaka Baru in Batu Berendam. If you are coming from town you'll pass by Infineon (a big electronics factory in Melaka) on your left and about 500 meters more, keep on the lookout for the signboard "Ah Lang Bak Kut Teh" on your left. It is just beside the main road, so you can easy spot it.
I quite like the bak kut teh served here. The soup is ok but pork meat is very tender. Must have cooked it under a slow fire for quite some time. Meanwhile the yam rice contains lots of small chucks of yam, that is quite salty but if eaten together the soup and pork, it tasted just right. Too bad the 'Yau Char Kwai' or Chinese cruller fried bread stick is not crispy as I like it to be.
Price: About RM9 per person (includes everything you see above).

Ah Lang bak kut teh shop