Curry rice
might not be as famous as
chicken rice ball
or
sate celup
in Melaka, but this particular shop in Malim, named Ji Chang Jie Curry Rice or Malim Jaya Curry Rice, is definately one place you should drop by. Here the curry is
flavourful
with its
spices
and have only light coconut milk. The
pork meat
is so tender that if almost
melts
in your mouth. Here, the curry is serve with combining with the
soy sauce and star anise
stewed eggs and the tofu. The licorice flavor from star anise enhances the taste of the eggs and tofu. Combining both sauces, it is like a match made it heaven.

Can you resist the temptation of this curry rice?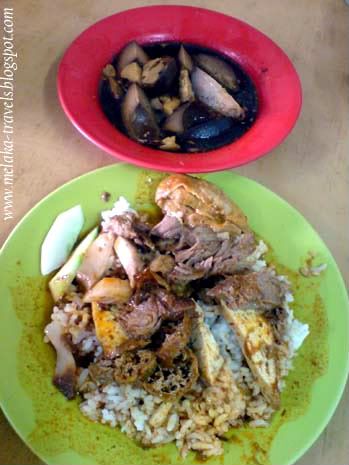 This shop has a history for about
50 years
and is originally from Jonker Street. I came to know about this shop in Malim after my dad brought us there for breakfast a few years ago. According to few peoples I talk to, most of them are the older folks in Melaka:P, they often refer it as
'Jonker Curry Rice'
and back in those days they have a lot more customers than they do now. I guess one of the major reason is the location. I must say that by foot, Malim is a bit out of reach to go from Melaka town and the other tourist attactions centralized there. With that aside, they do have a lot of loyal customers, often old customers and their families that come to "pong chan" (meaning something like help to give them business by eating there, hard to translate, but something like that la...haha :P).
It has been about a decade since they had shifted to Malim. Rumours has it that it was due to the hike of the shop rent caused by the 'Jonker Walk' project. Ok, enough with the history and let's talk about the food. I'm feeling abit tired now... so I'll say it in one sentence, "you'll just need to try it once and the food itself will the do the talking for you". Also, look at the photos, how can you resist it.

Look for this signboard
Location Address:
Ji Chang Jie Curry Rice,
G-11 Malim Jaya,
Melaka, Malaysia
Opening hours
: 8am - 2 pm everyday except on Tue and Thur (close).
Price
: RM3.50 per person (Rice + curry chicken and pork + some vege)
RM1.00 per egg in soy sauce.