Remember the savoury and crunchy
prawn crackers in Tengkera fishball noodles
? Well, there is another shop also selling the their version of fishball noodles with prawn crackers in
Bachang,
Batu Berendam
. The stuff they serve together with the noodles such as fishballs and fish cakes are almost similar. But, the one in Batu Berendam, the prawn crackers are more to the crunchy side and they are
more generous
by putting more of then in a bowl of fishball noodle as compared to the one in
Tengkera
.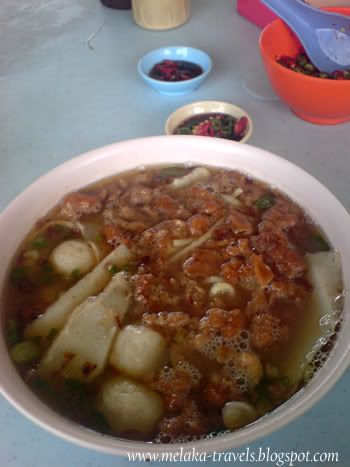 Medium bowl but lots of prawn crackers :p
The Batu Berendam fishball noodles with prawn cracker comes in 2 sizes.
Big and medium
. But I do feel that the medium here is equivalent to big in the Tengkera fishball noodle. Felt very full after eating the medium size one but enjoyed the very last bits of it. Come to think about it, the one is
Batu Berendam
price has
increased quite a lot.
It is now RM3.50 per bowl. I remembered it
used to be
just
RM2.50
a few years back. If compared to
Tengkera fishball noodle
, i now prefer here although the one in Tengkera used to be my favourite. They really need to do something to improve their quality to attract the old and new customers. As for the fishball noodle in Batu Berendam, i personally feel that the soup taste nicer and i feel like there are more ingredient. Just one comment, they might just use a bit too much on
MSG
.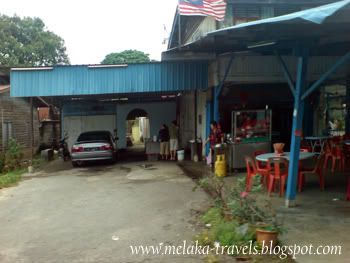 Fishball noodles with prawn cracker shop in Bachang, Batu Berendam